DMAX Dealer Management On Microsoft Dynamics AX
Overview
DMAX is a full dealer management solution built to automate all dealer processes in a single integrated ERP solution.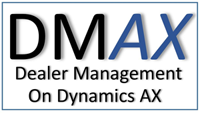 DMAX is built on Microsoft Dynamics AX ERP solution using Microsoft development methodology with full integration with standard ERP modules.
Maintaining dealerships is a major challenge for the cycle complexity & the need for a quick & easy to use solution. Using over 30 years experience CompactSoft developed in automotive industry, CompactSoft was able to provide the market with a state of the art dealer Management system that together with Dynamics AX features will provide a unique experience in Automotive ERP solution.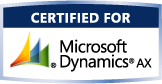 Solution Description
DMAX is enterprise system & yet easy to use with user friendly interface. Below is the key Features & modules:
- Single Integrated Solution for Managing sales & after sales & Back office Functions
- Support for Enterprise Implementations
- Arabic / English Interface With Optional Additional Languages
- Web Access
- Dashboards & KPIs
- Role Based KPIs & Web Pages
- Multiple Report Designing Tools
- Integration With Microsoft Word, Excel,...
- Role Based Display & Security
- Easy Integration With Any External Device Or Software
- Vehicle Master Files with multi level tree coding
- Flexible Pricing
- Manage complete sales cycle
- Manage customs cycle
- Manage vehicle delivery rules
- Manage customer payments and installments
- Appointment scheduling
- Spare part management
- Workshop management
- Workshop capacity planning
- Workshop resource allocation
- Operation management
- Quotation management
- Job split management
- Payroll and time attendance
- Warranty Management
- Insurance Management
- Owner Portal
- Enhanced customer invoicing
- Full integration with AX financial modules: GL,Budget,cash flow, AP, AR, Cost Accounting, inventory, planning, purchasing
For more information about CompactSoft Solution in Microsoft PinPoint, please click Microsoft