Hospital Management-Microsoft Dynamics AX
CompactSoft Hospital Management Add-on Microsoft Dynamics AX
Hospital management software is a full healthcare management solution built to automate all hospital processes in a single integrated ERP solution.

Hospital management solution is built on Microsoft Dynamics AX ERP solution using Microsoft development methodology with full integration with standard ERP modules.
Maintaining a healthcare facility is a major challenge for the cycle complexity & the need for a quick & easy to use solution. Using over 30 years experience CompactSoft developed in Healthcare industry, CompactSoft was able to provide the market with a state of the art Healthcare Management system that together with Dynamics AX features will provide a unique experience in Healthcare ERP solution.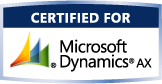 Solution Description
The Hospital Management is a enterprise system & yet easy to use with user friendly interface. Below is the key Features & modules:
- Single Integrated Solution For Managing Healthcare & Back office Functions
- Support For Enterprise Implementations
- Arabic / English Interface With Optional Additional Languages
- Web Access
- Dashboards & KPIs
- Role Based KPIs & Web Pages
- Multiple Report Designing Tools
- Integration With Microsoft Word, Excel,...
- Role Based Display & Security
- Built According To INTERNETional Standards as HL7, ICD, CPT, SNOMED CT...
- Easy Integration With Any External Device Or Software
- Workflows For Every Healthcare Process
- Paperless Hospital & Clinic workflows
- In Patient & Reception Administration
- Pricing & Grading Management
- Patient Billing
- Patient Web Portal
- Physicians Web Portals
- Nurses Web Portal
- Insurance & Third Party Payers full Automation
- E-Claims & E-Approvals of Insurance Transactions
- Infant Management
- Operation Theater Management
- Radiology Management
- Laboratory Management
- Web Laboratory Results
- Pharmacy & Medicine Management
- EMR (Electronic Medical Record) / EHR (Electronic Health Record)
- Emergency Room
- Out Patient & Clinic Automation
- Web Clinic Reservation
- Blood Bank Management
- Dietary Management
- Laundry & Housekeeping Management
- Infection Management
- Sterilization Management
- Medical Equipment Maintenance
- User Defined Modules
- Full integration with AX financial modules: GL, AP, AR, Cost Accounting, inventory, MRP
For more information about CompactSoft Solution in Microsoft PinPoint, please click Microsoft