CompactSoft Archiving & Document Management System
Overview

Archiving module is the company's backbones from the archiving side which includes storing infinite number of documents in different levels in order to facilitate reaching to any document in a fast time. Also the availability of dividing into groups in a tree form, each group contains similar group of documents, the availability of storing all types of pictures, scanners, files, documents or books and the availability of storing each document in the right site for this document.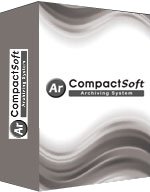 Benefits
- Simplicity and speeding of searching in identifying the location of the inquired file in an easy way.
- The availability of dividing archive into sites with the tree control or the flat control.
- The availability of placing files, documents, books or pictures on these sites.
- The availability of linking document with its related file on any site location.
- Sending the document to more than one group that contains similar documents.