CompactSoft Textiles Management System Package
Overview

This System aims to identify the cost for a specific style throughout identifying the costs of used materials in production orders such as ready made fabric or yarn in case of existing for knitting, threads, accessories & packing materials.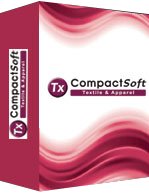 These used materials must be available or to be purchased if not available in the warehouse, also the availability of capacities for work centers (e.g. machines or human resources) in order to identify the right time of delivery. Also this module aims to follow up the different production's operations such as cutting, sewing, finishing, ironing and packing.
Benefits
- The availability of taking the decision about producing more quantities for a specific style in order to increase the orders on it or stop producing it because of increasing its cost.
- Following up of the referenced production orders in order to distribute produced quantities on the related sales orders also the availability to create packing instructions with colors & sizes.
- The availability of creating material, accessories & packing materials planning for different periods in order to create the purchase orders in the right delivery dates from this plan.
- The periodic follow up of the production cycle starting from availability of raw materials, accessories & packing materials for production, the available capacities of the work centers in the production routes and the indirect costs starting from the cutting orders, following up of the operations sewing, finishing, ironing, packing and finally shipping.
- The availability to reach the optimal capacity of production throughout studying the production routes, the deviations reasons between the plan & actual and handling it in order to increase the productivity and shipping in the right delivery times according to the customer's sales orders.
Systems